July 24, 2020 | Updates | Jeff Williams
Other Important Updates
The latest from TABC is we cannot serve wine or allow wine to be consumed on our property. Goods are to be sold only in sealed containers to be opened and consumed elsewhere. In short, we can sell bottles-to-go, that's it..
At Cicada Cellars we believe the majority of visitors to the Texas Wine County prefer to taste a wine before they buy it. Even frequent visitors who have established favorites prefer to try a recommended wine before they commit to a purchase. We have the answer for that, our mini bottles and mini six-packs are the perfect solution in these bizarre times.
All eleven of our current wines are available for purchase in 50ml (1.6 oz) tiny bottles. You may purchase individually or in a six pack of your choice. A six pack with a mix of your choice of wines is $25. These also make the perfect gift and/or memento of your trip.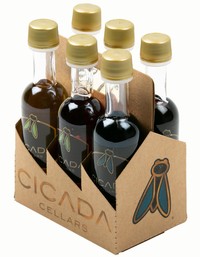 Comments
Commenting has been turned off.